This is a totally underground radio show (each night between 11h15 PM and 11h30 PM on 109.9FM). You can come see the recording if you wander on fridays or saturdays in some specific bars of the 20th district of Paris... The infamous Marcello and his not less infamous henchmens often hang out in this neighborhood to broadcast live some Alma, some more Alma, and... always more Alma, with jingles, announcers...
The Marcello Fibonnaci Projekt was born in the depths of "la Goguette", to whom we must send some special thanks: in the 73, rue de Bagnolet, Rachid and Chabane welcomed us with open hands, and still regularly host the show (approximately once by month) with additional party, alcohol, some salsa dub vibe and often couscous... Don't miss the next Goguette - check the
concerts
section.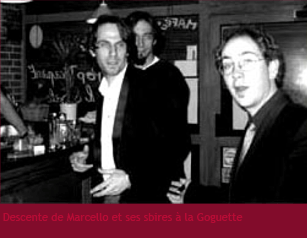 In Boston, if you want to eat good pastas, you go at Don Fibonnaci's. In the streets, he's also known as the baron, the boss, the emperor. This man also possesses a tampered burbon factory in the backcountry.
And in the family, Marcello is in charge of deliveries. From bar to bar, he sells this poison that they dare naming hooch. But the true business of Marcello is not delivery. His favorite hobby is the casino, his arch nemesis, the Black Jack. He already lost all his money 3 times, 2 deliveries and 5 trucks that weren't his own. And he still plays : he got kicked out of Boston.
Now he's roaming in Paris. He already tried 2 or 3 illegal businesses, but his last idea is to benefit from the prohibition on groovy music. And he deals sound. He created a show, the Marcello Fibonnaci Projekt, a cultural, italian show aiming to conquer le north of Paris, France and the whole world.