Mentions Légales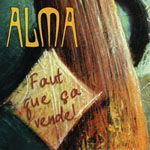 Welcome in the private zone of almasound.
To book your edition of "Faut que ça Vende", Alma next SP, and receive it directly at home, you have to log on. Follow the guide...

. You have already registered when our previous album was out, or the last time you visited the site : just use the same email adress and password. If you have forgotten the password, go down the page for the "Forgotten Password" form.
. You are not registered yet : fill the following form with your personal data. Once you are logged in, you will be able to reserve your SP via Paypal, update your post-mail adress, and get some bonus!!

Forgotten your password?
Enter your email adress and you will receive a new password.